Why do we need a car jump starter?
Many driver knows that Car battery is draining out power if it is old or power supply to car air conditioner or audio for long.
What will you do in such situation?
Many people bought a jumper lead in the car trunk if necessary. However, there is a problem that we need to look for another car and use jump lead to restart your car battery, which is negative and inconvenient. Or Waiting for car tow, Or ask help for passing car.

7 years ago, CARKU invented a mini lithium car jump starter to replace jump lead to jumpstart car without any assistance. Nowadays, many people is familiar with this product, and know how easy it is to operate without any help. But more and more news to release that lithium battery is easy to explosion if in poor quality. Some consumers become worried about its safety. Therefore it is very important to choose a good lithium battery jumper pack.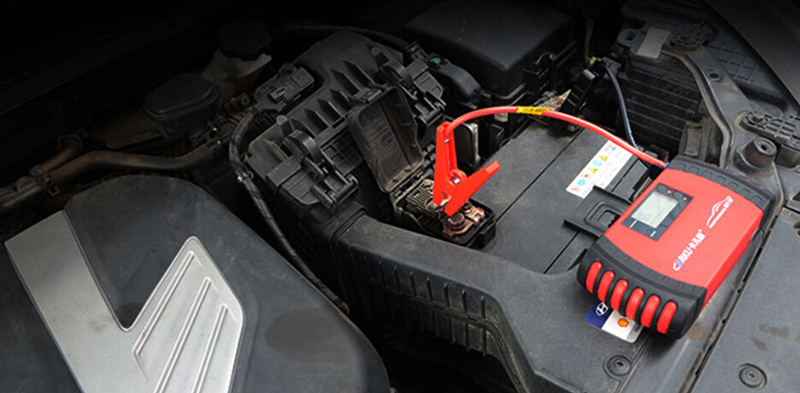 How to choose a best jump starter for your car?


1.Battery
Lithium battery is applied to different consumer electronics, such as mobile phone, loudspeaker,MP3, Toys, unmanned airplane, electrical car, motorcycles, and so on due to its great advantage: small size, high battery capacity, long lifetime. In jumper pack box, there are 3 or 4 lithium battery pack. If it is produced in poor quality, it will explode to got fire and threaten people's life and property. If you choose a jump starter, the supplier or seller can provide lithium battery safety information to you, FCC, CEL, RoHS, UL, CE, Reach, KC, etc, different countries has different safety standard to it.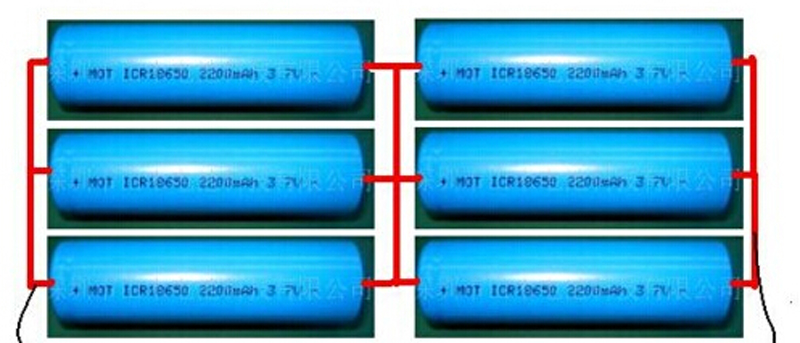 Besides, lithium battery car booster should be protected with advanced protection function technology, CARKU put safety to the first, and R&D team invented 'DSLI' technology
short-circuit protection, reverse polarity protection, over-temperature protection, over-charge protection, over-discharge protection, over-current protection, reverse charge protection, over-voltage protection to prevent lithium ion battery from any damage.

If you don't want to buy lithium battery car jumper, you can choose supercapacitor batteryless jump starter , CARKU invented capacitor jump starter with 100000 lifetime cycles and best performance in the extreme cold like Finland, Switzerland,Canada in winter.
2.Brand
If you want to buy a small jump starter as a emergency tool, you'd better choose branded jump starter. Here is the list of some brands:
CARKU
Gooloo
Anker
Black&Deck
DBpower
Energizer
NOCO
You can buy them on amazon or find their company website to inquiry your car battery jump starter.
3.Battery Capacity
Before you buy car battery booster pack, you'd better know your car engine size, 12V or 24V, diesel or Petrol, If gas, 2000cc, 4000cc, or 5 liter. Different battery capacity jump starter can restart different car engine size. Of course, the higher battery capacity is, the more expensive car starter is.
Here is a estimated conclusion for your reference, and it will be helpful for you to find a suitable car jumper.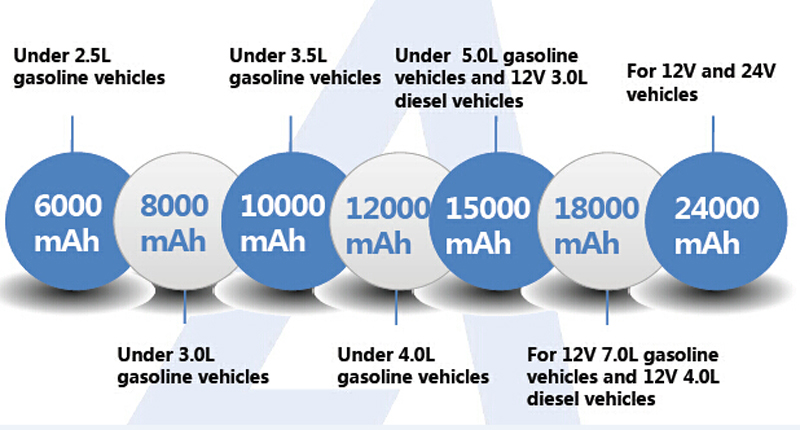 4.Multifunction
All in one car jump starter is the highlight for consumer to choose it. Because it has many ports:
5V/1A or 2A Port to charge smart phone, tablet PC, MP3 or 4, ect.
12V/10A to connect air compressor, auto cleaner, refrigerator
19V/3.5A to charge laptop
Compass to guide you in the wildness
LED flashlight light your road or in emergency
Other new elements add to auto battery jumper in 2017, like Type C, Quick Charge Technology, PD 30W to charge Mac book.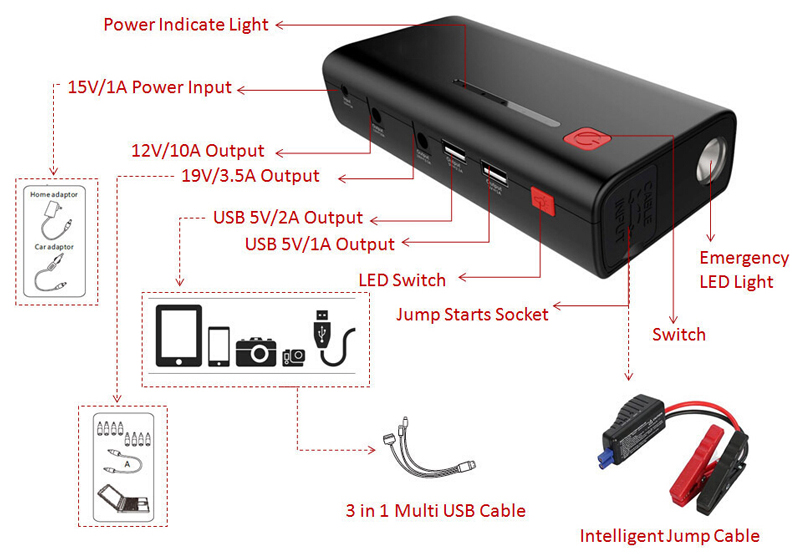 5. After sale Service
When you choose a best branded seller, you will get feedback from your seller. Normally, it is a one-year guarantee for use. If you use it in proper way, the seller will solve any issue if itself has problem.